Broncos Sign Caleb Hanie, Looking to add Dennis Dixon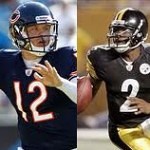 The Peyton Manning era is officially in full force. If the 4 time MVP is really 100%, then it doesn't matter if the Broncos have Mickey Mouse as their backup QB because he will never see the field. Does anyone remember Jim Sorgi?
Either way, the Broncos are adding some free agent QBs to come in and compete. Both of these guys are young and with that said I don't expect Denver to draft a QB this season now.
ESPN.com's Bill Williamson reports that the Denver Broncos are currently hosting quarterback Dennis Dixon for a free-agent visit.

The Broncos added Caleb Hanie as a backup option on Saturday, but Hanie won't get clipboard-holding rights without competition.
Source: PFT
Look for a DT/DE heavy draft, with possibly a WR or RB drafted as high as the #25 overall pick.