Brandon Marshall Traded to the Chicago Bears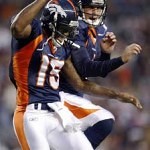 Adam Schefter reports:
Filed to ESPN: Dolphins trade WR Brandon Marshall to Bears for 3rd-round pick in 2012 and 3rd-round pick in 2013. Marshall rejoins Cutler.
For years I've said the Bears needed a tall receiver. They needed someone who could take that offense to the next level, and that someone's name is Brandon Marshall.
Together in Denver Marshall and Bears QB Jay Cutler had some career years, so putting them back together is a great move. If I had to grade this trade I have to grade it a A+ for the Bears. Two mid round picks for a Pro Bowl WR.