Beastmode Returns: Marshawn Lynch Signs Deal to Stay in Seattle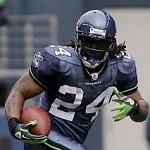 #BEASTMODE
Marshawn Lynch is without a doubt the best offensive player on the Seattle Seahawks offense. We all saw that two years ago when Marshawn single-handedly beat the defending Super Bowl Champion New Orleans Saints in a Wild Card Weekend playoff game.
There was talk of Marshawn possibly leaving, but instead the Beast will stay in Seattle for a few more years.
"Seahawks announce new deal w/Marshawn Lynch. He had been sitting on a 4yr/$31M offer since Pro Bowl, with $17M guaranteed."

For those who really want to see Trent Richardson fall to the Jets at #16, one of the biggest obstacles is (most likely) out of the way.
Source: Jason LaCanfora
I still think Seattle should do something to upgrade the offense around the Beast and friends. Maybe drafting a Quarterback like a Brock Osweiler or Ryan Tannehill would provide the secondary dynamic playmaker this offense needs.