2012 NFL Draft: Colts to Draft Robert Griffin III?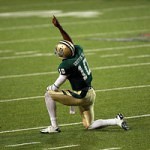 It has seemed like a foregone conclusion that Stanford QB Andrew Luck would be the #1 overall pick in the 2012 draft. That is… until NOW. The Colts outspoken owner Jim Irsay gave an interview to USA Today in which he entertained the idea of selecting Baylor QB Robert Griffin III instead of "the best prospect since John Elway."
Here is what he said:
"It's up in the air. We have to look at this thing completely open-minded. You have two outstanding athletes, two great pure passers, two guys from families that are incredible … If we get to the point where we're going to negotiate early, get something done before the draft, you never rule that out. We've talked to both agents. We haven't negotiated yet."
We all know the Colts are still going to select Luck but you have got to love Irsay playing this like a true poker player. Never let them see your hand, even when they know what you are going to do… this keeps the window open in case a team like the Browns or Dolphins want to do something crazy like trade 10 draft picks for the #1 spot.