2012 NFL Draft: Alshon Jeffrey Runs a 4.4 at Pro Day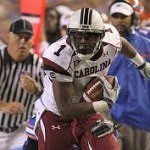 Alshon Jeffrey has been a very peculiar prospect. Many draftniks have placed him anywhere from the top 3 all the way to the second round. And the reason for that is mainly because of Alshon's weight issues.
Once believed to be around 240, Jeffrey shedded a ton of weight and came in the combine at a slim and trim 215 pounds. He was one of the biggest winners of the combine in many people's eyes.
At that time I wrote:
Alshon Jeffrey will show up in shape (225 lbs or below) and run a respectable 4.50 or better 40 time
And after the combine numbers came Mel Kiper wrote:
Jeffery weighed in at 216 pounds which surprised me. Thought he would be at 225-230. His Pro Day will be huge. 2nd rder right now
Seems to me that Alshon has a new dedication to the game, according to reports that have come from his Pro Day. Here is what went down:
Jeffery participated in the Gamecocks' Pro Day on Wednesday, however, and may have helped his draft stock. Scouts on hand timed his forty-yard dash in the high-4.4 to low-4.5 range, according to Kevin Weidl of ESPN Scouts Inc. SI.com's Tony Pauline had Jeffery at 4.55 on his first run. Jeffery also weighed in at 213, down three pounds from his Combine weigh-in.
Source: PFT
Good for Alshon. Hopefully he's worked himself into the top 15 once again.