Ut Oh: Nick Foles Is a Denver Broncos Fan
Updated: February 4, 2012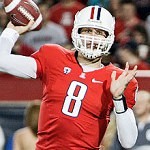 Oh the 102.3 ESPN podcast, Les & Jojo held an interview with former Arizona Wildcats QB Nick Foles. As you know, I think he is one of the more talented passers in this draft, and many other draft pundits agree with that sentiment. Some even have Foles pegged as a first round pick.
It was interesting to hear Nick talk about his experience as one of the Quarterbacks in the Senior Bowl, but was even more interesting was this tiny tidbit he drops at the beginning of the interview.
Denver was one of my favorite teams growing up
He then goes on to say:
…I grew up a John Elway fan, he's my favorite Quarterback growing up
They also asked Nick to comment on the fact that John Elway and Brian Xanders scouted him from the endzone when the Wildcats played the Colordao Buffaloes this season. Nick was aware of their presence but wasn't really effected by it.
That sound you just heard was the collective hearts of Tebow Nation dropping in unison.
Click here to listen to the interview