Shocker: Todd McShay Mocks Tannehill to Denver
Updated: February 4, 2012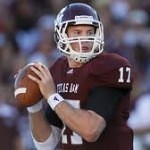 This time of the year mock drafts are an ever evolving thing as we have not even had the NFL combine yet but this is a bombshell if I've ever seen one. Now if you read this blog you know that I do not believe that Tim Tebow is the answer at Quarterback for the Broncos AT ALL. I've written several articles detailing the Broncos and their "wandering eye" at other quarterbacks.
I mean.. you don't hear Baltimore bringing in Quarterbacks. You don't hear Houston bringing in QBs. You don't hear even Dallas openly scouting other QBs the way denver does, so it should not a huge shocker that expert Todd McShay has mocked a QB to the Broncos in his latest mock draft.
25. Denver: Ryan Tannehill, QB, Texas A&M

My take: This is the shocker. If Denver uses its first pick on Tannehill, that means it will be turning to him soon. A team like this wouldn't take a backup at this spot. It would mean Denver doesn't believe in Tebow. The Broncos have other pressing needs. This choice would rock the draft.
Tannehill is a QB I really like and out of the QBs available in this draft he and Nick Foles are the ones outside of Andrew Luck and RG III that I see being viable long term starters.
It will be very interesting to see what Scott Wright, and Mel Kiper do with Denver in their mocks after McShay drops the hammer like this!