Plax Gone: Plaxico Burress Not Expected Back In New York
Updated: February 2, 2012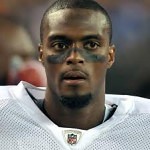 Many people wanted to blame Mark Sanchez for the Jets struggle this season. When I say many people, I mean everyone. That is everyone except a small minority which includes myself. Now I am not saying that Sanchez is up there with Peyton Manning but the proof is in the pudding, when Mark has a good running game and defense he can get you to the AFC Championship. He can make enough clutch plays with his arm to win big games. Those are the facts.
The fact that the Jets refused to resign Braylon Edwards and replace him with Plaxico Burress is something that will baffle J-e-t-s fans for years to come. Braylon was coming off one of his most productive seasons as a pro, Burress was coming fresh out of jail and almost 34 years old, and for some reason the Jets felt that was a lateral move?
Anyways, that failed experiment may be a thing of the past according to sources.
As Brian Costello of the New York Post writes, Plaxico was less than gushing in his praise of quarterback Mark Sanchez, or in other comments about the team.

Basically, Plax followed the "it is what it is" approach to answering the questions.

Asked about the team's quarterback, Burress: "Mark Sanchez is Mark Sanchez."

How did the season go? "It went as it went."

On whether the Jets used Burress to the best of his abilities, Burress said, "They used me the way they wanted to use me."

OK, last try. What's your impression of the Jets locker room? "The Jets locker room is the Jets locker room."

And so it sounds like Burress won't be back. Though he didn't expressly agree with Brandon Jacobs' assessment from Tuesday that Plaxico wishes he'd signed with the Giants instead of the Jets, it's safe to say that his decision was what his decision was, and that his next move will be his next move.

Source: ProFootballTalk
Do not be surprised if the Jets get rid of Plaxico Burress and Santonio Holmes in the offseason and start with a new, younger group of receivers next season who won't challenge Sanchez as the leader of the offense. As far as draft options go Kendall Wright, Juron Criner, and Dwight Jones will all be available when the Jets pick and if you ask me one of them should be the pick.