Mel Kiper's Combine Winners & Losers
Updated: February 29, 2012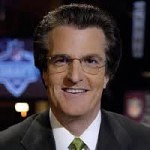 Every year after the NFL Combine a few players seem to take a stranglehold on the draft community. It is usually the player with the fastest 40 yard dash, or some player who wows us in his individual drills. This year is no different with NFL scouting legend Mel Kiper chiming in on twitter with his list of guys who did themselves a service at the combine.
Here is the list:
Big winners from the Combine – LaMichael James, Stephen Hill, Cordy Glenn, Fletcher Cox, Dontari Poe, Luke Kuechly, Josh Robinson.
Not to mention there are always some players that leave us dumbfounded for reasons behind a weak showing. This year there were a handful in that crop and Kiper chimed in on twitter as well on those players.
Players who need strong Pro Day to make up ground lost at Combine – Kendall Wright, Dwayne Allen, Vinny Curry, Vontaze Burfict.
(@MelKiperESPN)
We'll see how it all shakes out, but it's looking like 2012 a strong combine for the most part.