Draft Talk: Is it Robert Griffin III or Bust For the Redskins?
Updated: February 7, 2012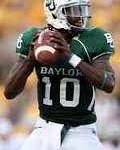 I have a buddy that is a Redskins fan, and every year he is telling me about what the Redskins should do but won't do in the draft. Last year it was trading up for Julio Jones I believe. Either way, the point is he is in a constant state of disappointment and confusion when it comes to the Skins. And why shouldn't he be? The team seems to make decisions by throwing darts at a board, spinning a wheel, drawing straws, or something else of that nature.
Many, many, Skins fans here on MDHQ have mocked Robert Griffin III to the Skins. If you visit any Redskins forum there is a guaranteed 5-plus page on "RG3."
But do they absolutely need him to have a chance to succeed in 2012?
A columnist over at Sporting News recently made these comments:
Looking at what's going on with the top four picks and the fact the No. 5 selecting team, the Tampa Bay Buccaneers have a franchise-type passer (Josh Freeman), the QB-starved Washington Redskins look like the ideal team for Griffin at No. 6. Being drafted to the D.C.-area would also fit with RG3's aspirations in the non-football fields of politics and law.
So do the Redskins need RGIII or can they skate by with another veteran alongside Grossman and Beck? I'm going to say they don't necessarily need Griffin, but they do need some youth at the position. Not just because it makes sense on the football field, but because it's what the fans need after such a disastrous gamble by the Shanahans. If Griffin is there at six they take him no doubt. Trading up may be a good idea as well as long as they dont give up too many picks to do so.