Brady Quinn Comments on Tim Tebow And It's Not Nice
Updated: February 21, 2012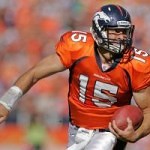 When the Broncos were winning games, Tebow fans could not be told otherwise that Tim had some kind of magic that simply made everyone better. All rational was thrown out the window as the Broncos found a way to win games in which their Quarterback only completed 2 passes in one contest, 8 in another, and less than 46% of all throws. On paper the team wasn't supposed to win with those type of stats at the QB position but facts are facts, somehow they won. According to former Broncos QB Brady Quinn, luck could be a big reason why.
It is a breath of fresh air to finally get some perspective and honesty in the media on the whole Tebowmania thing, and from a former player nonetheless.
Here is what Quinn said in an interview with GQ Mag:
Early in the season, there was a game when Kyle [Orton] got hurt and the coaches were calling for me to go in, but Kyle got up and finished the game out. So I was the second-string guy. Then, a few weeks later, they decided to put Tim in. I felt like the fans had a lot to do with that. Just 'cause they were chanting his name. There was a big calling for him. No, I didn't have any billboards. That would have been nice.
The entire game, the defensive line is chasing the quarterback around, and that wears down the pass rush. Meanwhile, the defensive backs are chasing receivers, but you only throw eight passes, so they start to feel lazy. It only takes that one play, that one big pass, for a touchdown.
If you look at it as a whole there's a lot of things that just don't seem very humble to me. When I get that opportunity, I'll continue to lead not necessarily by trying to get in front of the camera and praying but by praying with my teammates, you know?