5 Reasons Why the New York Giants Will Win Super Bowl XLVI
Updated: February 4, 2012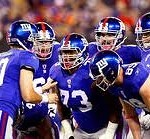 It is Saturday night and we are only hours away from the final game of this year's NFL season. Then it is on to my favorite time of the year… DRAFT SEASON. But before we get to that, the big game must be played. If you actually read the title of this post you already know that I am in fact predicting that the New York Giants will win Super Bowl XLVI (this has the potential look real dumb tomorrow night).
So why am I putting my very imaginary money down on the NY Giants? There are 5 reasons. Check them out:
1. Every Super Hero Must Have An Arch Nemesis and Vice Versa
The universe has this way of balancing the Yin and the Yang of all things. No one person can have it all. And because of that, I am predicting that Eli Manning officially cements himself as the Lex Luthor to Tom Brady's Superman. It will go down in the history books that no matter how great Tom Brady was, he just couldn't beat Eli Manning in the big game. It all started with the David Tyree pass. Eli took New England's soul like Shang Tsung in Mortal Kombat.
2. Eli Manning is the Best Big Game QB in the League
I cannot believe I just typed that. Even after ALMOST declaring Eli a bust a few years ago, I too have had to eat my words. Eli Manning simply wins in the playoffs. There are some guys (Elway, Young, Roethlisberger, etc.) that turn it up another level when the stakes are the highest. Eli is in that group. As of today his playoff record is a sickening 6-4 in playoff games with 1 Super Bowl ring.
3. SALSA!
Who is going to guard Victor Cruz? Don't worry, I'll wait.
If you answered "Devin McCourty" congratulations you have the incorrect answer. Let's keep it honest, the Patriots should not even be in this game. If it wasn't for a 3rd string CB making a play on NFL vet Lee Evans the Ravens are representing the AFC.
4. NASCAR
What does NASCAR have to do with this? That is the name of the package the Giants run with 4 defensive ends on the field. Between Osi, Jason Pierre-Paul, Kiwanuka, and the rest of the Giants defensive line you know they are going to get some pressure on Tom Brady. And don't forget that Brady was in a mini slump against Baltimore.
5. GRONK HURT
The thing that people will be keeping an eye on is the health of Rob Gronkowski's ankle. The Patriots tight end was seen limping about media day as if to say "Im going to play!" and I would not expect anything less. The thing is… if Gronk is anything less than 100% the Patriots lose their best down field target. Welker and Branch aren't the deep field threat on this year's team- its Gronk. So if Gronk is hurt and his speed is effected in any way it could cause New England to see a lot more safety play in the box than they would otherwise.
All in all I think it will be a great game. A LOT of history is at stake. Coaching legacy's, quarterbacking legacy's, young players looking to arrive on the big stage. It is going to be a fun one but at the end of the day, I think we will all be doing the SALSA.