2012 NFL Combine: Trent Richardson's Surprise Knee Surgery
Updated: February 23, 2012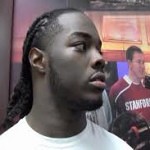 As you know by now, the first day of the NFL combine concluded today.  One could say it was pretty uneventful, if it was not for the news that a certain running back from Alabama had knee surgery.
Here are some of the details:
Former Alabama running back Trent Richardson will not take part in on-field drills at the scouting combine later this week after undergoing minor knee surgery.

Richardson's representatives sent a memo to all 32 teams informing them of the procedure, ESPN NFL Insider Adam Schefter reported Wednesday.

According to the memo, Richardson is expected to be able to participate in on-field activity by the end of March. Alabama's pro day is slated for March 7.