2012 NFL Combine: Alshon Jeffrey Silences Critics, Weighs in at 215
Updated: February 25, 2012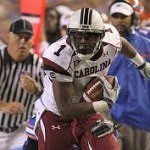 There were a lot of conflicting reports surrounding former South Carolina WR Alshon Jeffrey. Depending on who you believed either Alshon had already ate himself out of an NFL career, or was in the best shape of his life. I read all sorts of rumors from him weighing in at under 220 to well over 240 but all in all I expected him to come in the combine in great shape as he did. Here is what I wrote in my combine predictions just a few days back:
Alshon Jeffrey will show up in shape (225 lbs or below) and run a respectable 4.50 or better 40 time
And here is the official weigh in:
USC WR Alshon Jeffery was a huge victor at the combine weigh-in coming in at 6'3″ 216. We said he could be the biggest loser or winner.
Credit: NFL Mocks (@NFLMocks)
What's more interesting is the rumors that because of the incredible shape he's in Alshon Jeffrey has actually leaped Justin Blackmon on some draft boards. I don't have any super reliable sources for this, but I am reading and being told little tidbits that Blackmon may drop like a rock on draft day. Some scouts just don't feel that Blackmon does anything great and could be a Mike Crabtree 2.0. Jeffrey has shown a dedication to the game, and we all know he can make the aerobatic catch look routine. It will be VERY interesting to see if Jeffrey starts to be reconsidered as the #1 receiver in the 2012 NFL Draft in the near future.