2012 Combine: Janoris Jenkins Says He Doesn't Smoke Anymore and Has 4 Children
Updated: February 26, 2012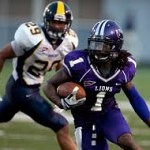 Your life will come down to the choices you make. It is simple as that. For one Mr. Janoris Jenkins that is a lesson that he is learning the hard way. After getting kicked off Florida, enrolling at Northern Alabama, and coming into the NFL Draft with "character issues" there was a lot of questions for Janoris to answer.
When asked about drug use Janoris answered:
"I'm done with marijuana forever. I can't do it, man"
Sounds like he may have learned his lesson, though I've read rumors that scouts aren't buying it.
An interesting random tidbit from the combine interview is that he has 4 children.