Video: Tim Tebow Beats Pittsburgh Steelers With Overtime Touchdown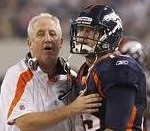 I'm pretty much at a loss of words right now. I'll just say that it is cool that the Broncos are on this run.
Let's take a quick stroll down memory lane to the 2006 AFC Championship game. I always thought that the 2005-2006 Broncos team could have definitely won the Superbowl that year. That could have happened but Jake Plummer turned the ball over five times in that game and the Steelers went on to beat the Seattle Seahawks in the Super Bowl and grab "one for the thumb." It is sweet to finally avenge that playoff loss.
I am not on the bandwagon, so please let's not go there. I'm still firmly on the side of reality. No matter how good it feels to beat the Steelers I cannot ignore that Broncos won this game largely thanks to Ike Taylor. The Steelers allowed six throws of over 20 yards in this game and at least 3 of them were on Ike Taylor's assignment. Anytime a guy completes 46% of his passes and still throws for over 300 yards in a win, something went very very bad within your defensive backfield.
Check out the video below. Not only does he allow the catch, he gets stiff armed as Demariyus Thomas goes Beast Mode all over him on the touchdown run.