Denver to Draft a QB? Tebow Awful in Broncos Season Finale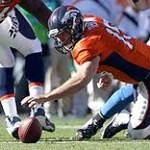 All season long, Tim Tebow supporters have been loud and boastful about how great their favorite player is. Broncos fans such as myself, quickly recognized that Tebow was no NFL QB and got blasted for it but for the most part we have stuck to our guns. So who's right?
Yes, Tebow managed to be a part of some Broncos wins. I won't say "he won the game" more than the defense won it, or that the opposing teams lost them. Tebow was simply apart of a fantastic win streak. Nothing more nothing less, but people like Skippy Bayless wanted to tell the world that "HE JUST WINS" with no regard for the other factors that played into the win streak.
The Broncos defense was holding teams below 19 points a game
The Broncos won a game in which their QB only completed 2 passes
The Dolphins turned the ball over on a game winning drive
The Bears turned the ball over on a game winning drive
The Vikings turned the ball over on a game winning drive
The Chargers lost 6 straight games
All of this and more are reasons why the Broncos were able to win enough games to get in the playoffs. The fact that they are only in because of a tie breaker is enough to tell you the true story here.
However since Tebow's fans want him to get all the credit, then he must get a lion's share of the blame for the three game losing streak that ended the regular season for the Broncos. Here are Tim's passing stat lines from these games:
6-22, 60 yards 1 int
13-29, 185 yards 1 td 3 int
11-22, 194 yards
The man throws more than half of his passes in the dirt (48% completion rate) and has also fumbled the ball 12 times during the year.
That folks, is simply not good enough to win games for you consistently in the NFL. I know it, you know it, Tebowmaniacs know it, and John Elway knows it.
So will Denver Draft a QB?
Of course they will.  Just the way the contracts happen to expire only leaves EFX with Tebow signed at the position next year.  Brady Quinn is a free agent so he might not return.  Either way, it is a fact that at least 2 more QBs will be needed going into camp.
I don't foresee Denver trading the farm for Robert Griffin III or Landry Jones.  That wouldn't make sense, and as quiet as kept Tebow Nation has a large control over this team and wouldn't let Elway get away with it.  I do believe that if Nick Foles slips to Denver's second round pick then he will be the selection there.  As far as veterans go, Jason Campbell looks like a really good option.
Either way, after wildcard weekend Tebow Time will be officially over and finally it will be time for this team to move forward.