Peyton Manning May Never Play Again, But You Knew That
Updated: January 31, 2012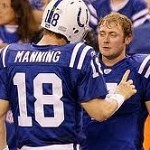 Yesterday the story of Peyton Manning's failed healing of his neck/nerve injury broke the waves. Everyone and their mother is reporting that the general of the Colt's offense may never play again, but we all knew this already. From Jim Irsay taking to social media to refute that "a decision has been made," to Peyton claiming that "everyone is walking on eggshells" it is evident…
Peyton Manning will never wear a Colts jersey again.
Ever.
Although the vertebrae in Manning's neck have healed as expected, which allowed him to start throwing again back in December, the same can't be said for the nerves in his arm, according to the sources. They say the velocity on his passes has not improved and possibly never will.

All of which, the sources say, indicates the four-time MVP will probably never play again.

Two league-affiliated doctors with experience in spinal fusion surgery told Cole that it would be too risky for Manning to play again and that it could take as long as a year for Manning to know whether a return is possible.

Credit: LA Times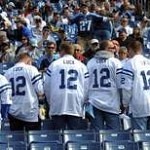 The team LUCKED out and sucked the year that the most complete collegiate prospect since Peyton happened to be in the draft. They will be selecting Peyton's replacement with the #1 overall pick and move forward. As of the minute the clock hit 0:00 on the last Colts game of the season this was Andrew Luck's team. Let's not dance around that fact.
The Colts would be well served to work out something with Peyton before he has to be cut from the team. No one actually thinks Jim Irsay is cutting that $28 million dollar check. Irsay and crew should simply ask Peyton to retire, have a big press conference and thank him for his legendary career. The first game next year they can then invite Peyton back, retire Peyton's number 18, celebrate his career, and move on smoothly into the new era with Andrew Luck.