Mark Schlereth says the Broncos Will Replace Tim Tebow
Updated: January 26, 2012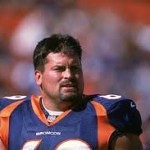 This morning on Mike and Mike they played a soundclip from former Broncos offensive lineman Mark Schlereth. He talked about the Broncos decision to name Tim Tebow as their starting QB when the Broncos open training camp this Spring.
Schlereth echoed the sentiments of myself and many other realists that are Broncos fans. When the Broncos can acquire a better passer, they will. It's as simple as that. "Stink" said that the Broncos commitment to Tebow is about as strong as a 5th grade relationship and the team will not only draft a QB early, but will bring in a veteran as well. All bets will be off when camp opens.
In another segment, Herm Edwards added that the Broncos "have other problems" and need a QB, but not a first round rookie because the team has so many holes such as RB, CB, TE. I stand to agree with that, but those holes can be filled with free agents. Hugh Douglas added that the Broncos need a better passing QB, I have to agree with that very strongly.

I've regurgitated my opinion 1000 times on this subject and it seems that it is all of sudden becoming the popular stance to take. No one hates Tim Tebow over here. We hate the 46.5% completion rate he throws at. If he was a better passer there would be no point to replace him, point blank period.
With that said do not be surprised to see the Broncos trade out of round 1 and into the top of round 2 to acquire an additional selection as they draft Nick Foles or Brock Osweiler. I would not be surprised if Jason Campbell or David Garrard ended up on the Broncos 2012 roster as well!