IMG Academies' 2012 NFL Combine Training Program in Full Swing
Updated: January 16, 2012

BRADENTON, Fla. (January 16, 2012) – Following a whirlwind summer of training many of the NFL's locked-out players, including standout rookie QB Cam Newton, as well as playing host to the NFLPA's Rookie Symposium, IMG kicked off its 12th season of training college football athletes for the greatest test of their lives – the NFL Combine.
This season thirty players descended on IMG's campus to immerse themselves in one of the world's most advanced and comprehensive training programs for today's pro player. Players eat, sleep and train on the 400-acre campus, with 24/7 access to medical staff and physical therapists. In addition to the daily position-specific on-field training led by Heisman-winning QB and Director of the IMG Madden Football Academy, Chris Weinke, and his team of IMG Madden coaches, players receive education and training in areas like sports nutrition and hydration, physical conditioning, speed and movement, vision training, mental conditioning and communication.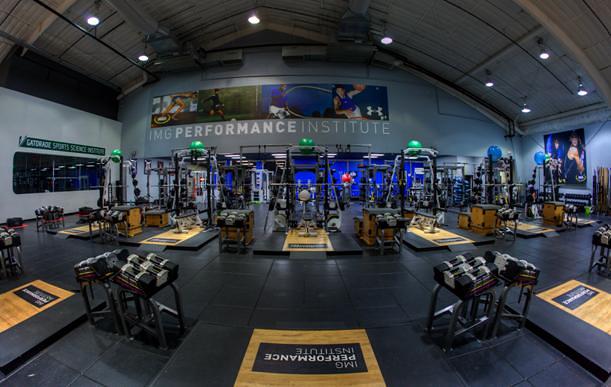 Sports Nutrition & Hydration
This year, sports nutrition and hydration is delivered in part via the Gatorade Sports Science Institute, located on the IMG campus. The Institute, which opened several months ago, is only the second of its kind in the world, and is dedicated to using its decades of scientific research to help athletes achieve their peak performance through proper sports nutrition and hydration.
The carefully-managed customized nutrition plans for players are designed by IMG Academies' recently-hired Head of Nutrition, Stephanie Wilson. Wilson earned her Master of Science in Food Science and Human Nutrition from the University of Florida in 2009 with summa cum laude honors. The year of her graduation Wilson received the American Dietetic Association Outstanding Dietetic Intern of the Year Award. Today she is a sports nutrition consultant for a number of top collegiate athletic programs including the University of South Florida and the University of Tampa, in addition to her full-time role with IMG Academies.
            Physical Conditioning
Wilson joins another new addition to IMG's core of experts – Scott Gadeken, Head of Physical Conditioning, who will lead all strength and conditioning program elements for the NFL Combine trainees. Prior to joining IMG, Gadeken was the Head Strength & Conditioning Coach at the University of Idaho, Head Strength Coach (basketball) and Assistant Strength & Conditioning Coach (football) for LSU, and Head Strength Coach (women's basketball, baseball and volleyball) and Assistant Strength & Conditioning Coach (football) for his alma mater, Kansas State University. Most recently, he was the Head Assistant Strength Coach for the University of Washington football program.
Among his countless titles and accolades, Gadeken was a finalist for the National Strength and Conditioning Association's National Strength Coach of the Year award in 2001, following an impressive string of bowl wins while at both Kansas State and LSU. In 2003, he helped lead LSU to a national title, and in 2004 and 2005, he aided the LSU women's basketball team in reaching the Final Four two years in a row.
Speed & Movement
World-renowned speed expert Loren Seagrave, an original pioneer of the NFL Combine preparatory program, leads the speed and movement segment of the program. In 1998, he began working as a speed and conditioning coach with the Atlanta Falcons during the off-season training program, and helped propel them to the Super Bowl. Some of his past NFL pupils include Eddie George, Tony Romo, Roy Williams, and Hershel Walker. Additionally, Seagrave has worked with and continues to work with countless Olympic and World Champions in the track and field world, many of whom now  call IMG Academies their training home.
This year Dr. Ralph Mann, the world's foremost authority on sports biomechanics and a former world-class track athlete himself, will also conduct individual biomechanical analyses of each player. Athletes will then be given prescriptive feedback to address limitations and correct any biomechanical issues.
Vision Training
Vision training specialist David DaSilva heads this unique and critical component of IMG's comprehensive athletic development program. Using state-of-the-art technology, DaSilva applies the same techniques used by fighter pilots to increase the strength in the muscles of the eye, the endurance of these muscles and to improve communication between the brain and the images captured by the eyes, thus improving the speed and efficiency by which an athlete can process the information that they see.
Mental Conditioning
Dr. Angus Mugford will continue to lead the mental conditioning portion of the program, while mental conditioning expert and Director of the IMG Performance Institute, Trevor Moawad, will provide additional oversight. Recently, as a mental conditioning consultant to the University of Alabama football program, Moawad played a critical role in helping the Crimson Tide to their second national championship in four years.
            Communications by game on
Communications by game on, which includes media training, is led by former actor Steve Shenbaum. Shenbaum and his team use improvisation and role-playing techniques to help athletes improve self awareness and creativity while improving communication, social confidence and sense of humor. Over the years, Shenbaum has worked with countless pro athletes including Yao Ming, Alex Ovechkin, Sidney Crosby, and Eli Manning, as well as numerous collegiate and professional teams like the New York Yankees.
IMG's 2012 NFL Combine Training Program, which began at the start of the year, will run up to the NFL Combine, held in Indianapolis, February 22-28, 2012. Projected top draft picks enrolled in the program include: Texas A&M QB Ryan Tannehill; Wisconsin QB Russell Wilson; Boston College LB Luke Kuechly; Georgia guard Cordy Glenn; Rutgers WR Mohamed Sanu; Wisconsin OL Peter Konz; and Michigan State QB Kirk Cousins.
About IMG Academies
IMG Academies, located in Bradenton, Fla., is the world's largest and most advanced multi-sport training and education complex dedicated to developing the TOTAL ATHLETE™.  For more than 30 years, IMG Academies has helped countless youth, adult, collegiate and professional athletes reach their full potential in sport and life, by providing expert coaching, tailored programs and world-class facilities within an energetic environment across a 400-acre campus.
Today the campus attracts more than 20,000 athletes from 100 countries annually. The Academies consists of the IMG Bollettieri Tennis Academy, IMG Leadbetter Golf Academy, IMG Madden Football Academy, IMG Baseball, Basketball, Lacrosse and Soccer academies – all supported by the IMG Pendleton School and IMG Performance Institute's multi-faceted training disciplines. IMG Academies also conducts camps, clinics and events year-round, while providing support to teams and federations around the world. Find more info at www.imgacademies.com.