Draft Talk: The Value of Running Backs Like Trent Richardson
Updated: January 11, 2012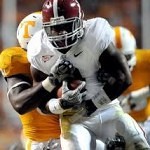 A comment came in on the blog today, that prompted me to want to have some draft talk with you all today. Feel free to comment below and let me know if I am crazy, or crazy like a fox.
Dave commented on the latest draft that "NO WAY Richardson fall to 17." I had no choice but to disagree. There is a very good chance that you could see Trent Richardson fall a bit even though he is a top talent in the draft.
I want to talk about the falling value of running backs. Especially "can't miss" first round talents like Trent Richardson. There are two main reasons why I don't see the value of selecting a runner in the top 10 picks of the first round of the NFL Draft. And this is taking nothing away from Trent, because he is an awesome talent no doubt.
The first thing is the one you always hear about. The pounding that players take at that position is like NONE other in the league. The thing with running backs, is that even if a runner is an All-Pro ANY carry could be the end of his run. Take a look at Adrian Peterson. He went down with one of the most horrific knee injuries I've seen in a while. And guess how much money the Vikings have invested in him? A cold $100 million over the next 7 years. Sure there is the chance he comes back.. but what if he becomes a Terrell Davis who NEVER fully recovers? It's such a gamble.
Guys like Chris Johnson and De'Angelo Williams didn't even officially go down with injuries but their production at the position dropped like a rock after signing guaranteed $30 million dollar deals. I believe it was Robert Littal who first tweeted "We may have seen the end of the guaranteed $30 million running back days." I tend to agree with that sentiment.
Do you really think the Bears are trying to break Matt Forte off a guaranteed $30 million after his knee injury? There is a reason he's already announced that he is playing in the Pro Bowl.
The second reason behind me not seeing Trent Richardson and running backs in the future going in the top 10 anymore is because of the fact that lower round running backs are consistently out producing their 1st round counterparts.
Fred Jackson went undrafted in 2003 and has amassed 3,794 professional rushing yards in five years. He is one of the few running backs from that draft class that are even still playing.
To further make my point, all I have to do is remind you Knowshon Moreno was drafted 12th overall in 2009 (1,906 career yards, 12 touhdowns), and Arian Foster (3,097 career yards, 29 touchdowns) went undrafted the same year. When you throw in the fact that the most successful teams in the league aren't even running the ball anymore, it spells a bleak picture for the future of drafting "franchise" running backs.
Do I think the days of the first round runner are over? Of course not. There is a place to add an explosive scoring threat to any team in the lower part of the first round and all throughout the second and third rounds. But I think the days of drafting a "cant miss" running back over a pass rush specialist like an Aldon Smith or Von Miller are gone. Teams have to invest their money where it is best used. Drafting a guy who can bring you consistent defensive pressure and double-digit sacks is more important in today's NFL than a guy who can get you 1,000 yards and 8 touchdowns.
It's just the way things are. The game is shifting away from running backs, and the few that do get the carries and big money are at an extremely high "risk of injury to guaranteed money" rate. Teams like the Patriots and Packers are leading the way in stocking their teams with late round running backs and no longer drafting Lawrence Maroney's in the first round.
I believe we see a continued trend away from the big money backs.