Draft Talk: Ryan Tannehill to Seattle Seahawks?
Updated: January 13, 2012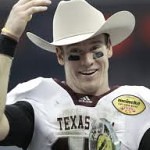 I enjoy doing these draft talk blogs, so expect to see more of them in the future.
For today's entry let's talk about Ryan Tannehill and the Seattle Seahawks. Seattle currently has the #11 overall pick in the draft, and in previous mock drafts quarterbacks like Landry Jones and Matt Barkley have been mocked to their slot. There is a slight problem with that today though… and that is that both of those players are staying in school. That creates a problem at the #11 spot.
The next best QB after Robert Griffin III and Andrew Luck would probably be Ryan Tannehill of Texas A&M. The question at this point is, is he worth the number 11 overall selection in this draft?
Is the positional value there? Of course.
Any guy you feel that can be a franchise quarterback is worth taking in the first round. But is Ryan Tannehill a franchise QB? Or is he a project player? That is the question. It may be too high a gamble to take such an unpolished player so high. I think Tannehill has as big a ceiling as anyone in the draft, but my personal opinion is that the #11 pick is far too big a gamble for him. Now if you can trade back into the 20's and get him then by all means do it. Taking players that bust in the top half of the draft is what gets coaches fired.
I am not saying that Tannehill will be a bust, but the odds are against him. Certainly if you pick him #11 and ask him to play as a rookie. Just two years ago he was a wide receiver. It would take a pretty crazy confident coach to invest that pick, and that just might be Pete Carroll.