Colts Secure #1 Overall Draft Pick and Possibly Andrew Luck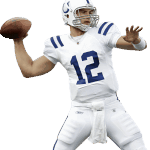 They Sucked for Luck.
If anyone asks you how the 2011 season went for the Indianapolis Colts that is all you have to tell them.  They sucked for Luck.
With Peyton Manning's neck injured and the general unable to play, the AFC South was unexpectedly competitive this season.  The Texans won the division for the first time ever with a rookie QB, and the Titans were alive for a playoff berth with CJ barely getting 1k.  The Colts became the bottom feeder of the division and only managed to win 2 games after Dan Orlovsky started playing at quarterback for an ineffective Curtis Painter.
With all of that said…
Do you draft Andrew Luck if you are the Colts?
Of course you do.
Even if Peyton Manning has 1-2 good years left who is the future? Dan Orlovsky? That is laughable.  You take Andrew Luck with the #1 overall draft pick whether he likes it or not.  I do agree with the sentiment that isn't a good idea to have both men on the same roster going into 2012.  The Colts probably should start fielding offers for Peyton Manning now, and trade him sooner rather than later.  It will be better on Peyton, Andrew, and the fans if it is a quick and clean break moving forward.