Colts Plan to Select Andrew Luck With #1 Overall Draft Pick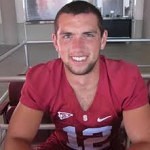 Are you surprised? I hope not. The Colts have all but made it official that Andrew Luck will be the numero uno selection in the 2012 NFL Draft. Multiple media sources have reported that Andrew Luck will be the first Colts QB drafted in the first round since the man he will be replacing… Peyton Manning.
The move is a very sound and safe bet. Despite Peyton Manning probably being the best regular season QB of all time, you still have to take in account that even he cannot defeat father time. Father time is undefeated, and has already thrown a huge blow to Peyton's career with the uncertainty surrounding the neck surgeries.
From everything that has been reported so far there is no direct indication that the Colts will deal Peyton Manning to another team or cut him. Of course it would make no sense to tip your hand if you are Jim Irsay right now. Let the other teams approach you and create the best market you can for your 35 year old quarterback and his bad neck.
Andrew Luck is the consensus best quarterback in the draft and would have been selected #1 last year over Cam Newton. Though a lot of scouts are liking Baylor's Robert Griffin more and more, you cannot deny it. Luck should and will be the #1 pick.