Brandon Marshall Has Spoken: Wants QB Flynn in Miami
Updated: January 27, 2012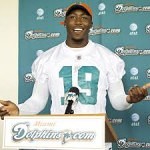 Even though Matt Moore finished the season pretty well (3-2 down the stretch) it seems as if at least ONE person in that Miami locker room isn't shy about replacing him.  And his name is one Mr. Brandon Marshall.
An interview with Marshall posted over at NFL.com revealed that he has already taken the first steps in getting the Packers backup QB, Matt Flynn, to take his talents down to south beach.
Here is the direct quote:
"You've got some guys in the draft, but there's not too many guys out there just walking the streets," Marshall said. "Matt is available. . . . . We've talked. I reached out to him. I get it from Ray Lewis. Around this time of year, players talk to players."
Ray Lewis may have started something.  It isn't uncommon for guys to talk about teaming up at the Pro Bowl and nothing come from it.  However with Miami hiring former Packers offensive coordinator Joe Philbin, things are shaping up for a Flynn-Moore QB battle this summer.