Alabama Defeats LSU 21-0 in BCS Championship
Updated: January 10, 2012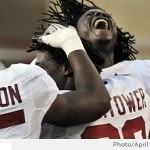 Last night the Alabama Crimson Tide proved me and everyone else wrong who picked LSU to roll over them. The Tide shut out the LSU Tigers en route to their second BCS title in three years. Incredible season for the Tide, and respect to the Tigers for what they have accomplished as well.
Last night the game was decided by who could get across the 50 yard line more and attempt more field goals. Ultimately, that ended up being the Tide who prevailed after having an early kick blocked and missing another. Despite the pretty good play from LSU's defense their offense just could not manage yards. Courtney Upshaw and Donta Hightower proved why they are two of the most coveted defenders in the 2012 NFL Draft. There was no where for LSU to run, and there was no where to go deep with the football.
Oddly Jordan Jefferson still finished a respectable 11-17 but only managed 53 yards. People were clamoring for Jarrett Lee but after seeing his very "Tebow like" stat line (below 50% passing and 1 td to 7 ints) I don't think Coach Miles really had a chance either way.
Coach Nick Saban is one of the best recruiters in the nation, and that was very apparent last night. His defense is stocked with NFL talent on all three levels, and his running back is probably the best in the nation at the position right now. With two out of three titles in three years the discussion for "best coach in America" might can start and end at Alabama.
News and Notes:
Robert Griffin III is reportedly going pro
Peter Knoz is going pro
Knile Davis will return to Arkansas for a Senior Season
Auburn RB Michael Dyer will transfer to Arkansas State