2012 NFL Mock Draft: San Diego Chargers 7 Rounds
Updated: January 17, 2012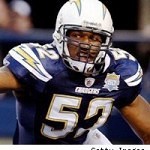 The San Diego Chargers are a perplexing team. On paper they are always one of the most talented teams in the league. ESPN anchors pick them as the "surprise" team out of the AFC year in and year out, only for the Steelers, Ravens and Patriots to take their rightful place with no space for the "up and coming" Chargers.
This team definitely took a step backwards in 2011. Philip Rivers did not look his normal self despite being voted into the Pro Bowl. I have a theory that he played this year with some sort of injury, but until that information comes out we have to assume he regressed. Missing Darren Sproles seriously hurt this offense but the future is bright in the backfield with Ryan Matthews leading the way.
San Diego's Achilles heel has been their defense. Specifically the lack of pass rush. Ever since the lights went out on Shawne Merriman's Pro Bowl days and he took his talents to Buffalo things just have not quite been the same. Larry English was drafted as his replacement… ….. … …
This team needs to find another pass rusher quickly, as well as add another element on offense to replace what Sproles did. So what will they do this Spring? Schlaarp put together this Chargers Mock Draft for us.
Mock below:
1

Chargers

ILB from Arizona State

The Chargers need to draft defensive players. That is where their weakness is. They have a very talented ILB in Donald Butler already but this way Burfict can rotate in Takeo Spikes and learn from him at the same time. Burfict is mean and would add an intense energy and that is something the Chargers lack.

2

Chargers

DE from Florida State

Chargers do not have a very good pass rush. Brandon Jenkins can eventually develop into a strong threat at the OLB position. He can Rotate with Antwan Barnes until he is ready to become a full time starter.

3

Chargers

RB from Oregon

When the Chargers let Sproles go they made a huge mistake. James can give the Chargers that threat to break one for A TD at anytime and since there is no one on the roster right now that can do that they will look to fill the void.

4

Chargers

TE from Louisiana-Lafayette

Gates is getting old and it is showing. The Chargers need to draft a guy that can be his back up and learn from him until he retires then become the starter. I think this is the right guy to do so. Watching him in the bowl game against SDSU it looks like he can eventually become an elite Tight End in the NFL.

5

Chargers

QB from San Diego State

A local kid with the right size and a huge arm would fit well with the Chargers. Im not saying he will ever be a starter but maybe a very good backup.

6

Chargers

WR from Oklahoma

The Chargers need to add depth in the receiver area and they don't need to take one early due to the fact they already have 3 good ones and Rivers can make just about anyone look good.

7

Chargers

C from Alabama

The Chargers need to add depth to this position in case Hardwick does decide to retire (which I doubt he will) but if he does stay maybe they can groom someone into becoming the new starter for a later time.