2012 NFL Mock Draft: Miami Dolphins 7 Rounds
Updated: January 17, 2012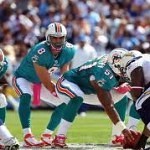 All in all, you'd have to say the Miami Dolphins had a pretty successful season, with all circumstances given.  The 6-10 record was not very indicative of what the team accomplished this year, especially down the stretch.  Matt Moore looked like a legitimate option as a starting quarterback, leading the team to a 3-2 record in the teams last 5 games.  Brandon Marshall made his first Pro Bowl in Miami, and Reggie Bush eclipsed the 1,000 yard mark for the first time in his career.  There is a lot of things to like on that offense going forward.
The Dolphins problem is finding a way to win more divisonal games.  Going 3-3 in the division just is not going to get you a playoff birth.  Yes, going 3-7 outside the divison is bad as well, but it starts with finding a way to beat the teams you play twice a year.  There is a reason the Patriots always win over 10 games a year and that is because they have the division's number.  Miami's road towards being a playoff team again starts with finding a way to have a winning record against the Bills, Patriots, and Jets on a year in and year out basis.
With that said, where will they go in the 2012 draft?  Draft a QB to groom under Moore?  Replace Hall of Famer Jason Taylor? Draft a CB? (Sportsdeck seems to think so!)
Dominator7808 put together a Dolphins mock draft for us. Check it out.
Mock below:
1

Dolphins

OT from Iowa

As A Dolphins fan I hate the fact that we are going to take another OL in the 1st round but with RG3 and Luck off the board no dice

2

Dolphins

QB from Arizona

Miami gets there QB of the future (hopefully) he will have a year are two to develop with Matt Moore's recent play

3

Dolphins

TE from Stanford

Vernon Davis, Rob Gronkowski, Aaron Hernandez, Jimmy Graham > Anthony Fasano… Nuff Said

4

Dolphins

CB from Vanderbilt

Dolphins secondary isnt very good outside of Davis and Smith so take the best CB avaiable

5

Dolphins

S from Boise State

Yeremiah Bell isnt getting any younger so a year behind a pretty good Safety is a GREAT idea

6

Dolphins

OLB from Miami

Koa Misi looked very promising in his Rookie Season but regressed in 2011 look for the Phins to get a new starter

7

Dolphins

WR from Stanford

Miami misses out on Stanfords best player so they'll take one of their receivers late in the draft