2012 NFL Mock Draft January 5th Update!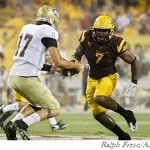 That's right. You read that correct.
We have went ahead and updated the official MDHQ 2012 Mock for all to read, enjoy, and disagree with. This is the first update to the official mock since about October so a lot has changed. For the most part the picks are not really that crazy at all. There is no shocker selection in this update. There is one trade projected so check that out if you are interested in what we think happens with that RG3 pick.
One of the newest additions to the site is also the 2012 draft archive page. This is where you can look back at our old mocks. Having them all on one page was getting kind of insane, so splitting it all up became a definite must do. I believe that is about it on the housekeeping side.
As usual sign up on the site and make a team mock and I'll do a write up on it and feature it here on the blog. Several teams still need mocks. The 2013 draft will also be updated soon as well. I have to give Matt Barkley, Logan Thomas, Tyrann Mathieu, Sammy Watkins, and a few other guys their rightful selections over there.
If you are on Facebook please don't forget to hit that like button. Thank you all for your support and let's keep it rolling all the way to the draft. Big things are in the works!