2012 NFL Mock Draft: Carolina Panthers v 3.0
Updated: January 14, 2012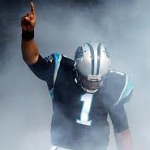 The Panthers had a pretty good year. Yes, they lost 10 games but there was a lot to like. Cam Newton set a NFL record for most yards by a rookie, and most rushing touchdowns by a quarterback. The ceiling is sky high for "Superman" if he can get some help at the receiver spot. Steve Smith played great, but on the other side was Legadew Nene… yeah…. that didn't work out the way that Coach Rivera probably thought it should have.
On defense, injuries and a lack of talent once again plagued this team. There was no one to stop the run, as the Panthers' linebackers went down one-after-another behind defensive tackles that even Panthers fans cannot name. It was a struggle to say the least. Greg Hardy was a bright spot on the end of the defensive line along with Charles Johnson, but all in all that unit struggled to find stops.
So what will the Panthers do in the draft? Panthersfan95 put together his third mock for us, heavily loaded on defense.
Mock below:
1

Panthers

DE from North Carolina

1st Round: They have to fix there run defensive and Coples could play DT or DE for them. If hes not there they have to get DT Devon Still, Penn State. Who is the best run stopping DT in the draft. If CB Morris Claiborne, LSU is there they cant pass on that talent plus CB is there biggest need i think.

2

Panthers

CB from South Carolina

2nd Round: If they get Coples or Devon in the 1st round thay still need to get a good CB and Gilmore will probably be the best 1 available. If they get Claiborne then they will probably try to get a veteran DT in FA and they should take WR Dwight Jones, UNC to get a young WR that can learn from Steve Smith.

3

Panthers

S from Kentucky

4th Round: I think this pick wont be affected by who they get in the 1st and 2nd round. Winston had a good year at Kentucky and with Martin not playing good for the panthers this year Winston could come straight in and start for the panthers, and i wouldn't complain about that.

4

Panthers

OT from USC

5th Round: They take OT Alex Hurst, LSU. They need to bring in a young prospect to replace an ageing Jordan Gross. If they have to they can move him to OG if they have to cause he has a lot a talent and strength in the trenches.

5

Panthers

OLB from Alabama

6th Round: They take OLB Terrell Manning, NC State. With Davis have 2 ACL injures in the past 2 years he might not be back with carolina for the next season so they need to bring in some future talent and Manning will probably be the best OLB available.

6

Panthers

PK from Florida

7th Round: They take K Randy Bullock, Texas A&M. Mare cost the panthers a few wins by missing chip shot FGs. They have to get an improvement at kicker and Randy is the best Kicker coming out in the draft.