2012 BCS Championship Game Preview and Draft Implications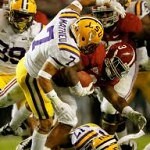 Tonight is the night of the 2011-2012 BCS Championship game. The LSU Tigers and the Alabama Crimson Tide will meet each other approximately two hours from now for the rights to the BCS Championship. It is going to be an exciting game marked primarily by defensive play on both sides of the field.
Nick Saban's squad boasts the best professional prospect in this game in Trent Richardson. Richardson was a Heisman runner up, leading the Tide to a one loss record. Their only loss came at the hands of their opponents in tonight's game- the LSU Tigers. Richardson absolutely has the ability to take over this game at any moment and gives Alabama the best scoring threat on the field at all times.
The thing is that, the LSU defense is simply awesome. Heisman runner up Tyrann Mathieu is a scoring threat on his own, and Morris Claiborne just happens to be the best corner in the nation and also on that Tigers defense. Alabama's defense marks several NFL prospects as well in Mark Barron, Courtney Upshaw, and Robert Lester. All five of the names I just named could easily be first round picks. The amount of defensive talent in this game is insane. If you love good old fashioned defensive football get ready for a good one.

So who is going to win?
This game will come down to who can manage to score multiple times on the opposing defense. Points will not come easy. It wouldn't surprise me at all if 14 points is enough to win this game. With that said, I believe that the LSU Tigers are the team more likely to score enough to win this game. Coach Les Miles always has some kind of crazy wrinkle up his sleeve, plus a mobile quarterback in Jordan Jefferson running his offense. Im sorry Bama fans, but AJ McCarron just doesn't scream "championship" to me at this point in his career.
Draft Implications:
This game is a huge game for the Alabama defenders. Courtney Upshaw, Robert Lester, and Mark Barron are all fringe mid-late first round picks. A great showing in tonight's game could vault any of those three guys to the top half of the NFL Draft.
I say take a look for Mark Barron to make his name known tonight. Jordan Jefferson is not the most accurate QB in the Nation. There will be chances for Barron to make big plays. Whether it is a turnover, strip, or fumble return Mark Barron is the name I expect to hear impacting this game for Alabama's defense.
I still think LSU wins, primarily because they are going to take more shots down the field and because they have a superstar in Morris Claiborne. Morris is already a top 5 NFL Draft pick, and I think the bidding war for him starts tonight. How many teams would love to have him? I know a team out in Pittsburgh that probably could use him. It's very likely that the Tampa Bay Bucs snap him up with their first rounder.
All in all tonight should be a good game. I'm looking forward to seeing who takes home the National Championship!