Robert Griffin III Wins 2011 Heisman Trophy
Updated: December 10, 2011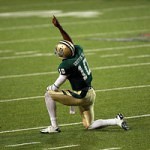 I'm going to be upfront, it is aproximately 4:30 pm EST, 3 and a half hours before the actual ceremony but I decided to go ahead and que this post up in advance. We all know Robert Griffin III is taking home the 2011 Heisman Trophy.
Griffin has done the virtual impossible: kept Baylor a serious BCS title contender all season long, and beat Oklahoma for the first time in school history. Griffin ended the regular season with a stunning 3998 yards, 36 TD, and just 6 interceptions.
The biggest part of the story is not the hail mary, not the fact that he overcame the hype machine of Andrew Luck and Trent Richardson, but the fact that he did this at Baylor. A lot of younger fans don't remember the negative perception that Baylor sports had just a few years ago. For those of us that do remember the name Baylor University is synonymous with a murder that happened a few years ago on the Men's Basketball team. It took one of the greatest seasons in team history for Robert Griffin III to bring a whole new excitement and usher in the new era of Baylor Bears sports.
Griffin is currently a 80 to 1 (-8000) favorite to win the trophy on the books. It's unlikely that Andrew Luck is able to get enough votes to surpass him at this point.
To put it in Robert's own words:
I think Baylor just won their first Heisman tonight.
Congrats from MDHQ to Robert Griffin III.