Reggie Bush Is Officially Not a Bust
Updated: December 21, 2011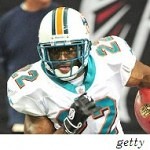 Many people still say to this day that Reggie Bush is a NFL Draft "bust" who picked up the majority of his #2 overall hype off one collegiate game versus Fresno State. Up until now, the Bush doubters have had a lot of ammo. While Reggie did get a ring down in New Orleans he did it primarily as the team's third down back behind then journeyman RB Pierre Thomas. Reggie's contract was huge, the doubt was lingering, and finally the Saints cut him.
There was only one move to make so like LeBron, Reggie took his talents to South Beach.
Soon as I heard about this I said that Reggie would find his way down in Miami only to be called crazy:
One Saints fan responded with this classic poetic dialogue:
one of the better backs in football, really?? dude couldn't start over a one legged deuce mccallister, Pierre Thomas, mike bell, Chris Ivory, Julius Jones,etc.. yall weren't suspicious when we traded him to you for a second yr, undrafted backup safety/special teams player???? get REAL with urself guy, hes not playing fresno state anymore. hahaha SPROLES is miles ahead of this hollywood n***a WHO DAT!!!!!
I hope the doubters were watching football last Sunday. After a 203 yard rushing game in week 15, Bush was named AFC Player of the week and is less than 30 yards from crossing the 1,000 yard mark. While Bush isn't a "franchise back" right now, he is certainly a far away from a draft bust anymore.
Teams have gotten far less production for a runner taken highly in the draft…
Mr. Knowshon.