Matt Barkley to Return to USC
Updated: December 22, 2011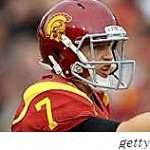 Many fans of teams needing quarterbacks were hoping their team could draft the talented USC passer.  Now they will have to wait an additional year because Matt Barkley is returning to USC.  I felt it made sense for him to come out, but that he would lean towards staying.
Being under the sanctions hasn't allowed him to get a full "college football experience" and I believe he is returning for that reason.  This isn't a Matt Leinart situation where the guy is returning to hang out with the boys.
Barkley put on a press conference where he delivered a short speech.  When he announced he would be leading the 2012 Trojans the band broke out into the school's fight song on que to a thunderous applause.  You could tell that it means a lot to him to be the one take this team into the new era out of the sanctions.
In 2013, Barkley will probably be projected as a top three pick alongside Tyler Bray, and Tyrann Mathieu.