Matt Barkley Seeks Advisory on Entering 2012 NFL Draft
Updated: December 1, 2011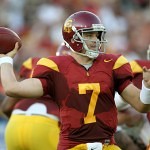 Here we go! Draft season is pretty much in full speed right now. With the coming Bowl Season and the NFL Playoffs starting soon, it's time for everyone to start taking their futures into consideration.
A player taking action is USC's Matt Barkley, who has submitted paperwork to the NFL Draft Advisory board. My thing is, why? By now he should know that he's the 2nd or 3rd quarterback on the board depending on how teams feel about Baylor's Robert Griffin III.
What does he want? Im guessing he submitted a piece of paper that said:
Am I better than Andrew Luck?
[ ] Yes [x] No
Just kidding. Here is the video of Matt talking about his future and possibility of entering the 2012 NFL Draft:
Breaking sports news video. MLB, NFL, NBA, NHL highlights and more.