Elway Says "Tebow is Not Going Anywhere" No One Buys It
Updated: December 21, 2011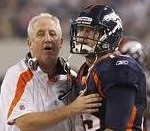 Its very, very, very rare that I find myself agreeing with Stephen A. Smith and Skip Bayless on football topics when I choose to tune into First Take. Thank goodness the Tebow talk has slowed down about 90% and ESPN is watchable again, but that is another story. Anyways, there was a topic today regarding Broncos President John Elway's comment that 'Tebow is not going anywhere.'
Nor Stephen A, Skip Bayless, or Hugh Douglas bought the comment. The funniest thing was that even Skip admitted that Elway said nothing about Tebow being a quarterback and not moved to another position!
But what do I think about it?
From the outside looking in, I think that Stephen A. was more so on the right path. He said the Broncos are going to draft a QB. While I no longer think they will move way up in the 2012 NFL Draft for a Robert Griffin III or Matt Barkley, there is always the outside possibility that Nick Foles, Kellen Moore, or Ryan Tannehill falls into EFX's (Elway Fox and Xanders) waiting arms. Before drafting a passer, the Broncos definitely need to make a move for a young running back and a few defensive backs first.
If none of the mid range QB's fall low enough then you will see the Broncos bring in a veteran to compete with Tebow. That could be anyone from Vince Young (ESPN would explode) to Matt Flynn or Jason Campbell.
My best guess for the 2012 Broncos Quarterback chart would be:
QB1- Tim Tebow
QB2- Brady Quinn/Jason Campbell
QB3- Ryan Tannehill
All in all Tebow will probably start the season, fail to produce the same miraculous wins he has in 2011 and probably end the year being benched. The Tim Tebow saga is going to leave Bronco Nation in a nasty divided state whenever Tebow is finally cast away. At least it will be fun to watch.