2012 NFL Mock Draft: Where Will Nick Foles Go?
Updated: December 28, 2011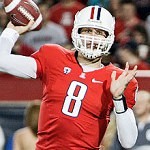 If you are a fan of the draft, you probably know by now that USC rising Senior Matt Barkley has decided to stay in school. That has set a bit of a shock wave through the draft community. With the status of Robert Griffin III and Oklahoma's Landry Jones up in the air the next quarterback on the list if you are looking is Arizona's Nick Foles.
Foles is a hotly debated subject back and forward between many draft fans. The thing is, Foles could easily go in the 3rd round in the 2012 draft. However if Barkley, Griffin III, and Jones all stay in school then Foles could also easily go in the middle of the first round. Yes, the opinions on Foles range that far and wide.
What are my thoughts on this?
I believe that Foles will go somewhere in the top 55 picks. That puts him around the 18-20 spot in the second round. As a Broncos fan it does concern me that some believe that Foles could go in the middle of the first round because for some strange reason I believe John Elway is dying to draft Nick Foles. From eveything that I've read the Broncos seem really interested in Foles. Then again, they were also really interested in Cam Newton and you see how that panned out.
What is Foles' value as a pro?
As you may know I do not like "scouting reports" because for the most part they are wrong. I will just tell you my opinion on Foles from the limited action I got to see of him.
To me he is a classic drop back passer. He isn't going to run around the field like the "new wave" of QB's. Foles is going to sit back comfortable in the pocket. Sometimes maybe a little too comfortable if you ask me. At 6'4 he is a huge target for defenders and he has a tendency to lock on to his primary target and wait for him to get open.
I am not sure if that is a product of Arizona's scheme, or if Foles simply doesn't like to look for his second and third options. Either way that is a very correctable problem. Mechanically he is very sound, and a near 70% passer. Though it was in the Pac 12, that accuracy is nothing to sneeze at. That may be the main reason the Broncos are so interested.
So where will Foles go in the draft?
All in all, I believe he goes in the top half of the second round. I think a team like Seattle or Kansas City that may not necessarily want to spend a top 10 pick on a QB will take him in the second round and develop him behind a veteran.