2012 NFL Mock Draft: Washington Redskins
Updated: December 19, 2011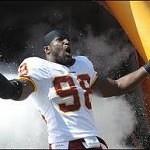 The Washington Redskins are a team that many had high hopes for. After signing former Broncos "mastermind" head coach Mike Shannahan, the fans of the burgundy and gold were excited about the offensive power that would return to the nation's capital.
Boy were they disappointed.
Shanny, still harmed by his love of street free agents and lower valued players, stocked the Redskins with a team with pretty much no offensive weapons and a ton of youth and inexperience in some of the key areas. Rex Grossman won the battle of "who can be the little bit better than worse QB" with John Beck but that has not translated into wins. The team needs a signal caller and in the 2012 NFL Draft they have the chance to get a good one IF Shanny can step past his own ego and admit his mistake in Grossman.
Defensively the Skins are rock solid and always have been. They virtually need no upgrades, just youth to fill in the rotation particularly on the defensive line and corner back spots.
But what will they do in the draft? Bizzy Money has put together a 2012 NFL Mock for the Skins with his picks. Let us know what you think!
Picks below:
| | | | |
| --- | --- | --- | --- |
| 1 | Redskins | | QB from Baylor |