2012 NFL Mock Draft: San Francisco 49ers
Updated: December 29, 2011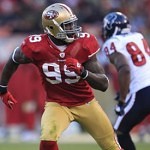 Ironically, we have not had a 49ers mock draft posted yet here on MDHQ.  Maybe that is fitting because the 49ers are a team that have managed to sneak up on the rest of the NFL in a similar fashion.
New head coach Jim Harbaugh brought an attitude of "getting stuff done" and toughness that this organization so badly needed.  The defense has played lights out, and has only allowed ONE running back to score a rushing touchdown against them all season (Marshawn Lynch).  Yes, that is an NFL record by the way.
New additions to the team Carlos Rogers and rookie Aldon Smith have made a huge impact on the defensive side of the ball.  Offensively the 49ers are still managed by former #1 overall NFL Draft pick Alex Smith and anchored by the strong running game of Frank Gore.  Much like the Denver Broncos, this team is handcuffed by their quarterback but the defense does more than enough to keep the game winnable.
So what will the 49ers do in the 2012 NFL Draft?
YoungRob put together this mock draft for the Niners.
Check it out below:
| | | | |
| --- | --- | --- | --- |
| 1 | 49ers | | QB from Baylor |
| 2 | 49ers | | RB from Oregon |
| 3 | 49ers | | DE from Florida State |
| 4 | 49ers | | ILB from Alabama |
| 5 | 49ers | | CB from Nebraska |
| 6 | 49ers | | OT from Boise State |
| 7 | 49ers | | OLB from North Carolina |