2012 NFL Mock Draft: Quarterbacks Mock
Updated: December 16, 2011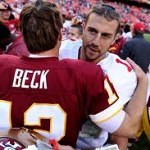 One of the biggest stories in the draft is always where will the quarterbacks go.  Last year was insane with 6 passers taken in the first 40 or so picks.  Many experts did not think that many passer should have went so high in the draft.  The fact that so many QB's are getting snatched up early and often means one thing and one thing only…
…quarterbacking in the NFL is at a real low place right now.
You have guys like Tim Tebow (shut up), Blaine Gabbert, Christian Ponder, Alex Smith, Matt Cassell, Mark Sanchez, and Ryan Fitzpatrick with starting quarterback positions right now.  One could argue that out of all 32 starters, only 3 or 4 are truly "franchise" QBs.
With that said, kingcooks did a 2012 NFL mock draft of the quarterbacks.  Check it out and let us know what you think.  And yes, Tebow fans the Broncos are included.
Mock below:
1

Colts

QB from Stanford

Everyone knows that the Colts are gonna take a QB and Luck is #1. Manning is 35 and injured. I think the Colts will keep Manning and have Luck as a backup for a few years.

2

Redskins

QB from USC

Barkley and RG3 are 2a and 2b. I think Barkley will go as the 2nd QB in the draft and will go the WAS. Sorry Rex N Beck can't start and Barkley will start from day 1.

3

Dolphins

QB from Baylor

RG3 2 Miami. Moore has been playing well but isn't the answer. RG3 is flat out like Vick but better and not a criminal. RG3 can do well for Miami. The Fins actually have a decent team they just need a QB and a little O-Line help and some receivers and tight ends.

4

Seahawks

QB from Oklahoma

T-Jax & Charlie Whitehurst are not starters. Jones can provide the Seahawks alot of help.

5

Chiefs

QB from Texas AM

I like Cassel but he is 30 years old and in a contract year. Tannehill can provide the Chiefs with a good backup in 2012 and if they decide to let Cassel walk they can start Tabbehill right away.

6

Broncos

QB from Arizona

For some reason Elway and Fox hate Tebow. So they take Foles as there QB and probably find someone to take him off there hands. Foles would really be in a good situation if they draft him. They have a great young offense and ok defense.

7

Giants

QB from Michigan State

Eli really isn't that good and they need a decent Backup or new starter. Cousins will provide the giants with a good QB of the Future.

8

Ravens

QB from Oklahoma State

I don't think this will happen but with Flacco in his contract year in 2013 I think they will resign him but you can never have to good of a backup QB. Weeden is 28 by draft time but if he was 22 or 23 he would easily be a 1st round pick. But he will be a 3rd or 4th rounder.

9

Patriots

QB from San Diego State

Brian Hoyer is gonna be a free agent and Ryan Mallett might not be the answer. Ryan Lindley is Tom Brady 2.0, If Mallett pans out and becomes a great QB and they have Lindley take over for Brady.

10

Steelers

QB from Tulsa

At the end of the season the Steelers will only have Big Ben "The Rapist" and need to find a replacement for the future of Big Ben. They need a good backup QB and Kinne is a great QB but going to a smaller school will drop him.