2012 NFL Mock Draft: NY Jets
Updated: December 30, 2011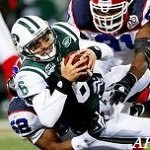 The Jets are a team that has not lived up to lofty expectations. After going to back to back AFC title games, this was supposed to be THE YEAR for the Jets. They were supposed to break through that glass ceiling, win the AFC, and win the Super Bowl. All with head coach Rex Ryan yelling "I told you so!" to any nonbelievers.
We all know that is no what happened. The Jets lost a key free agent in Braylon Edwards and replaced him with Plaxico Burress. A lateral move at best. The ground and pound game disappeared, and Mark Sanchez was asked to win too many games with his arm.
I wrote here before the season even started:
Here is a secret: The New York Jets quietly got a lot worse this offseason. You cannot replace a stud like Braylon Edwards with a slower, older, receiver fresh out the joint. You cannot rely on rookies on your defensive line. You cannot rely on Mark Sanchez and a bunch of receivers he pretty much JUST met.
And pretty much all of that has come back to hurt the Jets this year. They can still make the playoffs, but like 4 different teams have to lose. It looks like Rex will be hitting the couch early this year. "Cant Wait?"
I don't want to sound like I'm piling on the Jets. They have just been very disappointing for the level they played at two years ago. Maybe a good draft is what the doctor ordered…
YoungRob put together a Jets mock draft with his picks.
Check it out below:
| | | | |
| --- | --- | --- | --- |
| 1 | Jets | | WR from Notre Dame |
| 2 | Jets | | QB from South Carolina |
| 3 | Jets | | CB from TCU |
| 4 | Jets | | OLB from Oklahoma |