2012 NFL Mock Draft: Dallas Cowboys Week 13
Updated: December 7, 2011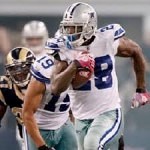 The Dallas Cowboys are sitting 7-5 and are poised to make a run at the playoffs if they can win out the season.  Of course that is easier said than done with a game against Philly, and two games against the Giants left to play.  Running back Demarco Murray has brought what Tashard Choice and Felix Jones were not able to bring to this team, and that is a bell cow runner that can take some pressure off Tony Romo.
There are still questions as to how the Cowboys let lesser a talented team like the Arizona Cardinals beat them, but cheer up Cowboy fan, that's the only bad loss the 'Boys have all year long.  Regardless, the Cowboys still need a lot of help primarily defensively and if they can sure up that defensive backfield they can go a long way in years to come.
Here is cowboys4life's updated week 13 mock to share with you what Jerry Jones should do in the 2012 NFL Draft:
1

Cowboys

  

DT from Penn State

Still has had a great year. Spears never really worked out. The Cowboys missed out on Watt last year and Jerry Jones will not do that again. Still can play DE in a 3/4 and also could be a undersized DT. He the ability to stop the run and get to the QB. If Ware, Ratliff, and Still are getting pressure the D becomes a lot better.

2

Cowboys

  

OG from Wisconsin

The OL has looked decent of late. They still need a big G to do some of the dirty work. He has blocked well this year making Monte Ball score like 50 TD's. He could do the same for DeMarco

3

Cowboys

  

S from Miami

The Cowboys have been lacking a real S or FS since Woodson. Armstrong has shown signs that he is a Shawn Taylor type of player. He can come up and stop the run and plays the deep ball well. In the Rob Ryan defense he could play all over the field and make plays

4

Cowboys

  

CB from Georgia

Also the Cowboys need better players at CB. Boykin is a solid CB who will make a play here and there. Also he knows how to play man to man when needed. The Cowboys also will go after CB in free agency like a Brandon Carr or Cortland Finnegan

5

Cowboys

  

OLB from Florida State

Bradham is a good player. He is a big hitter. He can play pass D and also get to the QB. He can take over for Spencer

6

Cowboys

  

WR from Texas AM

Fuller had a bad year and will drop a lot. However, He is still a great WR. He is sort of like Dez in that he has good hands and his big. We need more solid WR core.

7

Cowboys

  

TE from USC

Cowboys Trade Bennett, TE. For another 7th round pick . They replace Bennett with Ellison. He is a good sized TE who can catch the ball in the red zone. Also he is a decent blocker

8

Cowboys

  

QB from Illinois

Harsnish was a solid college QB. Last week he showed poise leading his team back in the second half to win. He has decent size at 6'3 and the ability to scramble. Romo is getting older and McGee is not the answer and Kitna will be gone by next year. We need another QB to groom

9

Cowboys

RB from Alabama

The Cowboys also trade Scandrick who never turned out to be very good and always gets dumb penalties called on him. Terrance Ganaway is this pick. He has shown good running and catching ability with Baylor this year. The Cowboys could also use him in SP. I dont see Felix Jones ever being very good,

10

Cowboys

RB from Alabama

The Cowboys need to add some free agents in 2012. TE Kellen Davis could be a good down the middle and red zone target. LB Rocky McIntosh- A Solid tackler in the middle to take over snaps for Brooking. S Jim Leonhard isnt the best in coverage, but is a great leader and good blitzer. WR. Eddie Royal could be a nice slot WR. He is fast and could be a deep threat.