2012 NFL Mock Draft: Buffalo Bills
Updated: December 5, 2011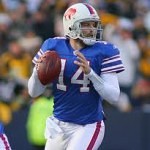 The Buffalo Bills are a team that is full of over achievers. Starting QB Ryan Fitzpatrick is a journey man from Harvard. Star RB Fred Jackson is a journey man as well, and star WR Stevie Johnson is a former 7th round pick. All in all this team has done some very impressive things with the roster they have put together.
The thing that haunts the Bills is for every gem they find, there is an extreme lack of production for their top NFL draft picks. You have Lodis McKelvin benched, Aaron Maybin released, and CJ Spiller underperforming in his role as the team's future running back.
The Bills have been competitive in many games this year but they still need a lot of help on defense to get over the hump. What will they do in the draft?
Dblair1234 has put together this 2012 NFL Mock Draft for the Buffalo Bills. Check out his picks below:
1

Bills

ILB from Arizona State

With Marcell Dareus and Kyle Williams on the defensive line and with young talent Kelvin Shepperd at linebacker,adding Vontaze Burflict would make the Bills have one of the strongest front 7 in all of football

2

Bills

CB from South Carolina

Many people believe that the Bills need a pass rusher but I believe that the Bills want to enhance their secondary. Stephon Gilmore is a corner that I am very high on and I believe that he will be able to come in and start from day 1

3

Bills

OLB from West Virginia

The Bills finally selected a pass rusher. Bruce Irvin was unbelievable last season recording nearly 15 sacks and this year he has become a more complete player while still reaching double digit sacks. Irvin will be a great player in the NFL for years to come.

4

Bills

WR from Oklahoma

Ryan Broyles has been a phenomenal player at Oklahoma throughout his time there. He has been Landry Jones go to receiver and I have a feeling he will be Ryan fitzpatricks to. Although Broyles doesn't have the prototypical size he can be a great slot receiver and even beat you on the deal routes as well.

5

Bills

QB from Boise State

The Bills will be looking to add a developmental QB to learn behind Ryan Fitzpatrick. Kellen Moore is the winningest QB in college football history and a heisman runner up.

6

Bills

CB from Oregon

Many people may look at this pick and be shocked but I see Cliff Harris falling in this draft. He was a great player for Oregon last year but this year all he has been is drama and trouble. He a phenomenal kick/punt returner and a very good cover corner but teams may stay away because of all the drama.

7

Bills

OT from California

The Bills will be looking to add another offensive lineman