2012 NFL Draft: Rams or Colts to Get #1 Pick, Andrew Luck
Updated: December 25, 2011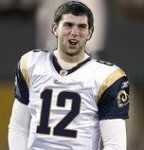 As we wind down the NFL season (what a season to forget for many teams) one of the biggest stories all year has been the race to the bottom, #Suck4Luck. You know the rules.  Whoever loses the most games gets the number 1 overall pick, and the rights to draft Stanford's amazing Quarterback Andrew Luck.
Last week the Colts did the near impossible and beat the Texans.  With that win, they became the first team in NFL history with 10 losses to beat a team with 10 wins.  All this with Peyton Manning on the sidelines in his Brett Favre Wranglers.
As we stand now the Vikings played their way out of the Luck sweepstakes with a win at Washington.  That leaves the final standings with the Rams and Colts tied with 2 wins each.  If both teams win next week, the Colts get Luck.  If both teams lose, the Colts get Luck.  But if the Colts win and the Rams lose, then the draft gets real interesting.
Do the Rams take Luck?  Do they trade the pick? Does a team come out the blue with a king's ransom?
This is going to get really good. Come on Rams… lets make this interesting…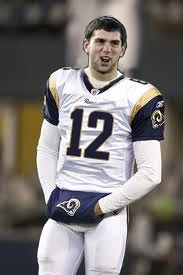 Could it be? Andrew Luck in a Rams Uniform?