2012 NFL Draft: Colts Win Costs Them Undisputed #1 Pick And Possibly Andrew Luck
Updated: December 22, 2011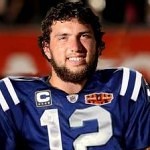 Uh oh.  Things are getting VERY interesting in the #Suck4Luck campaign.  Just a few weeks ago it seemed as if the Colts won the "race to the bottom" and were going to pick Andrew Luck in 2012's NFL Draft.  Well that plan is on hold right now.
The Colts unlikely win over the Houston Texans has their win total now at two wins.  That is tied with the Minnesota Vikings and St. Louis Rams for worse in the league.  The Colts hold the tiebreaker among the three teams, but if they win next week and the Vikings or Rams or both lose, the Colts could see themselves sliding all the way down to the third pick.
Here are a few quick draft scenarios and how they could play out:
St. Louis- Andrew Luck QB Stanford
Indianapolis- Ryan Kalil OT USC
Minnesota- Justin Blackmon WR Oklahoma State
Minnesota- Andrew Luck QB Stanford
St. Louis- Morris Claiborne CB LSU
Indianapolis- Ryan Kalil OT USC
Of course there are thousands of scenarios that could happen but if the Colts don't have the #1 pick they may have to take another player such as Ryan Kalil or Justin Blackmon as a consolation prize.