Updated 2011 Heisman Race
Updated: November 2, 2011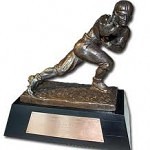 A lot happened last week. Andrew Luck finally had his Heisman moment in a overtime win at USC. Tyrann Mathieu served a one game suspension. Russell Wilson and his Badgers lost on yet ANOTHER hail mary. Landry Jones set the Oklahoma passing record. All of this collectively plays into the 2011 Heisman Race.
Here are our current Heisman standings. We are going to rank the top 5 guys and hopefully not look too crazy. I guarantee you won't agree with at least one, or two of these picks.
Rankings below: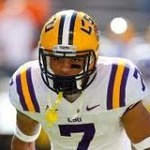 5. Tyrann Mathieu CB LSU
Yes, he served a suspension. Yes, LSU won without him. Yes Claiborne is probably the better pure player. But when you talk Heisman, we aren't talking the best player on the best team necessarily. We aren't talking the best story. We aren't talking the best stats per say. We are looking at a total body of work, and who is the most excellent player in the Nation. The way Mathieu is impacting games from the corner back position and on special teams there is no way I can take him off this list. You may hate it, but Mathieu is creating turnovers, scoring touchdowns, and impacting his team in a major way… all as a Sophomore corner back.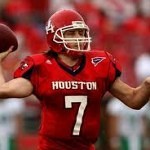 4. Case Keenum QB Houston
Once again a controversial selection. According to ESPN he currently has 24 votes. The Heisman isn't for lifetime achievements but not only has Keenum played well this year, he has done it all in a small conference and with the pressure of coming off an injury and going for a NCAA record. He's broken all Timmy Changs records and is now the FBS leader in total offense,and passing touchdowns.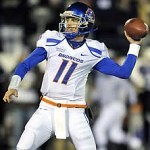 3. Kellen Moore QB Boise State
Again, not a lifetime achievement award, but Kellen Moore has played exceptionally well with the pressure of trying to lead Boise to a BCS bowl on his shoulders. He's currently 174-228, with 2010 yards, 24 touchdowns, and just 5 interceptions. I still think some one (TCU) is going to beat the Broncos though.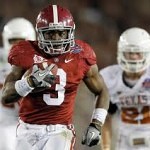 2. Trent Richardson RB Alabama
What do I have to say? If the Tide beat LSU this weekend then Richardson may move straight to #1 on this list. Nick Saban does a great job of not only finding extremely talented players, but putting in that pro style offense and giving them the best chance to succeed. Richardson has ran for 989 yards on only 149 attempts… that's over 6 yards a carry in the $EC.
1. Andrew Luck QB Stanford
You already knew that after the Cardinal found a way to beat USC in the instant classic thriller last weekend that Luck was going to be moved to #1 on the list. There is still a chance that Luck loses a game this season and Richardson eclipses him but so far Luck has been the most excellent player in the nation. Not only has he shown the ability to win the easy games, he was the reason his team won their toughest test so far. If somehow Stanford runs the table then its a no brainer, Andrew Luck will be your 2012 Heisman winner.
Honarble mentions: Brandon Weeden QB OSU, Justin Blackmon WR OSU, Tajh Boyd QB Clemson