The Tebow Effect: Jack Del Rio Fired As The Jacksonville Jaguars are Sold
Updated: November 29, 2011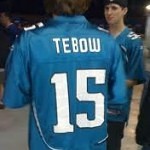 I predicted this would happen EXACTLY the moment when the Jaguars passed up on Tim Tebow in the 2010 NFL Draft. Here is what I wrote, exactly:
Tebow apparently is the one factor that can save the sinking ship that is the Jacksonville Jaguars fanbase.
Now that sad day has come as the Jaguars are imploding.
With Tim Tebow doing in Denver that which few believed he could do at the NFL level, Weaver undoubtedly is stewing about the failure of his football people to recommend drafting in 2010 a guy who not only would have easily filled the home stadium in the short term, but whose success could have allowed Weaver to permanently remove the tarps from EverBank Field.

"Star power is incredible, and Tebow is an iconic figure," Weaver said in 2009. "That's very compelling. He clearly is an outstanding football player and would be an asset to any football organization. . . .

"The game is such an important part of this community, and Tebow is such an iconic figure that people would legitimately think, 'Wouldn't it be great if he was a Jaguar,'" Weaver added at the time. "I'd be silly to sit here and think that's not going to be a huge thing."

So what happened in early 2010? With Weaver excited about the ability of Tebow, a Jacksonville native who played college football up the road in Gainesville, to sell tickets and strengthen the ties between team and community, someone had to talk Weaver out of drafting Tebow, from a football standpoint.

That someone most likely was Del Rio or G.M. Gene Smith, or both.

And now that Tebow has won five of six in Denver and the man for whom the Jaguars traded up to draft — Blaine Gabbert — has looked a lot worse than second-rounder Andy Dalton, Weaver's blood likely boils every time he sees Tebow lead the Broncos to an unlikely victory, and every time he sees Del Rio lead the Jags to an inevitable defeat.

(Source: PFT)
After shunning an injured David Garrard for a raw rookie in Blaine Gabbert you knew the Jags were on their way to imploding. This team cannot sell seats, wins games, and has the smallest fan base in the league.
You have to believe that new ownership will do whatever it takes to correct Wayne Weaver's mistake, bring Tebow home, and save the franchise. John Elway wants to move on, and the Jaguars need new blood in their franchise. It's a deal you have to start putting together the first day on the job if you are Shahid Khan. You can figure out what to do with Blaine Gabbert later.