John Elway Does Not Feel The Broncos Have a Quarterback, And He is Right
Updated: November 21, 2011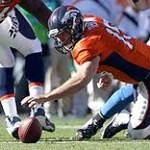 I've told you many times before in this whole "Tebow thing" (shout out to B. Lloyd) that John Elway is the only voice of reason in the room. Many fans have been lulled to sleep over Tim Tebow I mean the defense's ability to win 4 out of 5 games.  But one man looking closer at the situation, and realizes the Broncos are on a dangerous slope is Mr. Elway.
Broncos executive vice president of football operations John Elway continues to be lukewarm about Tim Tebow's future as the starting quarterback of the Broncos.

Gary Miller asked Elway the following question on his weekly radio show on 102.3 FM, via the Denver Post.

"Any closer to feeling if you have your quarterback on this team?"

Elway flatly answered "no."

Source: PFT
Quite frankly, Tebow is an awful passer.  There is no way around it.  I don't want to hear the excuses.  No hate. No agenda. Men lie, women lie, numbers don't…
The guy barely completes 45% of his passes, primarily throwing screens.
That just is not going to get it done.  Especially when the option is finally stopped. Can Tebow run? Yes. But that is what running backs do, not Quarterbacks.  Thank goodness John Elway can see through the hype and will get the Broncos a quarterback of the future this offseason.