2012 NFL Mock Draft: New York Giants
Updated: November 15, 2011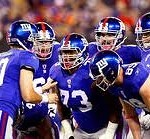 The Giants were a team that many people felt lost way too much in free agency to remain competitive. Star wideout Steve Smith signed with the Eagles in a shocker, and consistent tight end Kevin Boss went to the Raiders. To make things worse, Super Bowl hero Plaxico Burress signed with the Jets- the team that the Giants share a stadium with.
One thing remained consistent for the Giants. As foolish as it sounds to say, Eli Manning is actually beginning to prove to his critics he is indeed an elite quarterback. The Giants are 6-3 right now, leading the NFC East and look to be one of the legitimate contenders to the Packers in the conference.
But what will they do in the draft? Coltsplaya77 has put together a nice Giants mock draft that addresses many of the team's needs and concerns.
Giants fans check it out and let us know how you feel!
Mock below:
1

Giants

OLB from Boston College

the giants need help at the LB position Kuechly is a great Tackler and who wouldn't want a 6'3 237 pound OLB.

2

Giants

TE from Clemson

Giants get a steal right here a sure route runner 6'4 255 pound TE a great blocker and will give another target to Eli Manning

3

Giants

OT from BYU

For the Giants they need more size in their OL David Diehl is getting older for the giants Reynolds is a good athlete for his size he is 6'6 305 pounds.

4

Giants

S from Virginia Tech

Giants have some problems at their secondary so Whitley would be a good addition at 6'1 200 pounds hes a good coveragemen

5

Giants

RB from Texas AM

Lets face it Brandon Jacobs probably won't be there next year Gray is a power back at 5'10 200 pounds would be a good backup for Bradshaw

6

Giants

WR from Alabama

Dominic Hixion has some injury issues so Maze could be a KR and a potential slot receiver

7

Giants

QB from Chattanooga

David Carr their backup is getting older and older so a QB would be a good pick