2012 NFL Mock Draft: Bengals Draft Version 3
Updated: November 13, 2011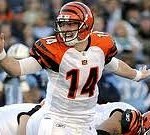 Who would have thought the Bengals would be in such a good position? After starting the season with a strong 6-2 record, the Bengals not only looked good now but they made a power move for the future of this franchise.
Former Starting Quarterback Carson Palmer was sent out of town for a pair of first round draft picks to the Oakland Raiders. For those counting, the Bengals will have two first round draft picks in two straight drafts back to back starting in the 2012 NFL Draft. If they keep drafting guys like AJ Green and Andy Dalton those picks will go a long way towards regaining control of the AFC North.
WhyNot26 has put together his third Bengals themed mock draft. Check it out.
Draft below:
1

Bengals

CB from LSU

I would love the addition with Claiborne,with Hall,Clements, and Jones, Seems scary right

2

Bengals

RB from Alabama

All Round Back?? Trent Richardson, hey NFL welcome our new cow bell Trent Richardson

3

Bengals

OG from Georgia

Upgrading the interior O-line is the next best thing, Williams is getting old, and adding Glenn with Boling(last year pick OG) would be a great combo for years

4

Bengals

CB from Montana

Can Be a CB or Safety, Long arms and tall, can be a great DB

5

Bengals

DE from Texas

Okafor can help our emerging great pass rush, just think of the combo at D-line, 9 man rotation deep, just like the Giants

6

Bengals

DT from Florida

WOW, 10 man D-line? crazy rotation, we wont have enough playing time for everyone if he can keep drafting like this every single year

7

Bengals

CB from Alabama

To add the icing on the cake in the Backend, we added Menzie, we can play both Safety and DB also can be on ST

8

Bengals

WR from Arkansas

A WR who dont need to be rush into action yet, but he has game, seen him play last year with Mallet and the guy was tearing it up, and also that year when they beat Tim Tebow

9

Bengals

C from Baylor

Depth at O-line and has a true backup to Kyle Cook also can play Guard